Friday, March 20th, 2009
---
6:45 pm
- time
i know it is cliche, but how come there never seems to be enough time for everything. maybe because i work full time, maybe because i just don't make the time. who knows, it can be frustrating. i wanted to start another band, it began, one practice and then other things have come up. i'll probably have more time for it very soon but i'm failing. i'm even failing at keeping the other people in the loop which is not fair at all, i feel like punching myself a lot.
Sunday, March 1st, 2009
---
8:46 pm
- 03.06.09
so this friday, my favorite comic book ever comes to life on the big screen, i'm so excited i can feel it in my stomach, i have the entire day off from work. i've been avoiding every behind the scenes look at the movie, all "spoilers" pretty much everything except for trailers and movie posters. and i don't look up the trailers online i've just caught them on tv or actually at the movies. everything i've seen so far is very promising. it seems like scenes from the comic come to life. watchmen is a stand alone story, unlike most superhero comics that continue on for decades. but it's a deep story full of symbolism, and it brings up all kinds of questions about life and authority and pretty much everything. it seems like the movie is going to deliver but there is a lot of room for failure. if this movie falls short of the mark i'm not sure how i will react, i still have the book, i always have and i always will, i'll always have everything that i've taken away from it. it's just such an event and it has been built up not just by myself but by different media outlets. i'm not sure where i'm going with this but yeah, this weekend is going to be pretty intense. so i'll either be at home crying all next weekend or in a movie theatre all weekend, we find out friday at 12:00 a.m.
Sunday, July 8th, 2007
---
3:52 pm
- just to do
just to do, and entry just to do, get it. to do it.

milo
Tuesday, August 1st, 2006
---
8:04 pm
i want to save the world. on so many different levels. it needs to be saved, if you look around there's no denying it.

i want to save her from everything bad, i know i won't be able to keep all the evil away anything that comes my way first is not getting anywhere near her.

so i haven't really updated lately, not for lack of things to report but for lack of time to report them. i am once again a full time member of the band druggist. i play bass, it's fun, we are a busy band. i'm in a band with two great friends, three now. we practice a lot we play a lot. make it out to a show please i appreciate it more than you'll ever know. we play a song i wrote, it was the first song i wrote in years. seriously. and i've written another song, maybe i just needed to be in an active band to get things flowing again.

kevin invited me to watch river city wrestling with him about 2 months ago and in doing so he started a new obsession, not so much started one but rekindled a flame that had long since died out, i used to love wrestling and that love has returned stronger than ever. fuckin kevin! like comics weren't geeky enough.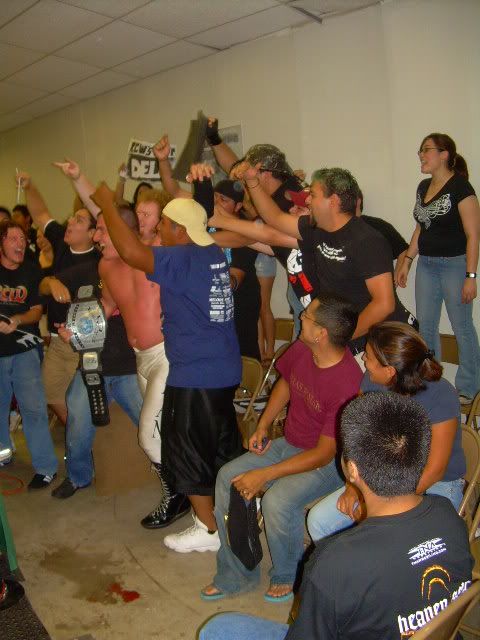 "one man" mike dell, a cross between al bundy and a bad ass wrestler, huh? i don't know, he's awesome.


me and angela have been hanging out a lot, we're a fuckin team the likes you've never seen if we can't save this world we're gonna destroy it, a few of you will be spared, along with select comic shops, record stores and book stores.

more later. bye.

milo
Thursday, July 20th, 2006
---
1:13 am
she'll see i'm not worth it, they all do eventually, some realize sooner than others. at least it's a give and take, kinda, it's always gonna be a little uneven,probably equally frustrated and confused. i'm sleepy i'll finish this later maybe, blah.
Sunday, June 4th, 2006
---
12:27 am
- crazy week
got punched in face.
got fired, got hired.
saw smoking popes. had fun
did some other fun stuff. it's been a long eventful week. i'm tired.
i take it easy next week. i save money next week.
i start speaking in complete sentences when i have energy.
Thursday, June 1st, 2006
---
1:44 am
- and bye bye, and bye bye, and bye bye, and bye bye.
monday i got punched in the face, some thug was all up in my grill threatening me, then chaos ensued, things happened to friends of mine things that shouldn't have happened, it sucked. the whole time i was being threatened i didn't react i wasn't scared, i got punched and i didn't react. "no fear" it made me aware of me. strange. but why does this scare the shit out of me. maybe cause it makes so much sense, it feels so right and makes so much sense. hmmm. i haven't had much sleep. think clearly tomorrow.
Thursday, May 4th, 2006
---
9:19 pm
that was a really depressing episode of the office.
Wednesday, May 3rd, 2006
---
8:54 pm
Your results:
You are Superman

| | | |
| --- | --- | --- |
| Superman | --- | 80% |
| Spider-Man | --- | 65% |
| Robin | --- | 62% |
| Hulk | --- | 45% |
| Green Lantern | --- | 45% |
| Catwoman | --- | 45% |
| Iron Man | --- | 45% |
| Supergirl | --- | 42% |
| The Flash | --- | 40% |
| Batman | --- | 35% |
| Wonder Woman | --- | 17% |

You are mild-mannered, good,
strong and you love to help others.



Click here to take the Superhero Personality Test
Monday, April 17th, 2006
---
8:30 pm
so i'm sure you've noticed a lot of my posts lately have been pictures of what's going down. not a lot about me, about what's really going on. i'm not sure why. it's not that i don't have a lot on my mind. i do. too much. and i don't even understand the feelings i've been feeling lately. if that makes sense. nope.
and i've been writing all the "deep" stuff in other places. hopefully it'll be fruitful. and one day you'll see the fruit. and maybe eat it.

current mood: fling flong
Sunday, April 16th, 2006
---
3:59 pm
- fuckin karaoke
so last night was karaoke, fuckin team karaoke in almost full effect, we were missing a couple of members but we were still strong. usually i'd post captions along with the pictures, but in this case captions aren't needed. it's karaoke. i could even go as far as posting one picture. a picture that captured the power of the night. but i'll go ahead and post more than that. but i'll post the super power pic first that way it's your choice if you want to move on. but after seeing the power you probably won't need to.

(

go foward!Collapse

)
Saturday, April 15th, 2006
---
7:33 pm
- fart
a real update later but for now, i want you to see the two coolest birthday presents i've ever received.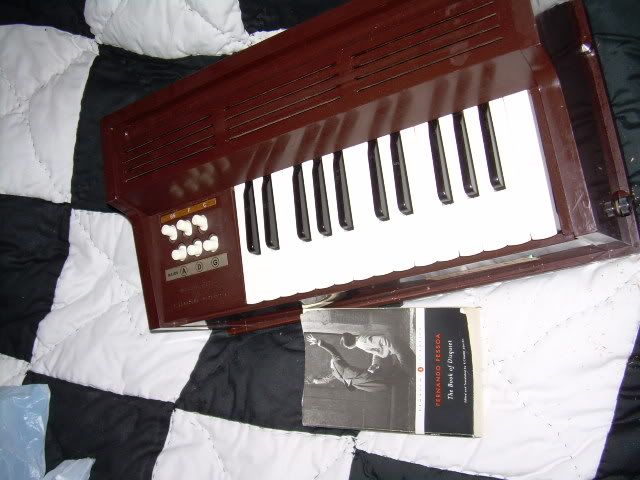 the organ is from Vicki, and the book is "The book of disquiet" by Fernando Pessoa, it's one of the most amazing books ever. so beautiful. and depressing, but in the best possible way. the book is from angela. she's awesome. i wish i could hang out with angela more cause she's one of the coolest people i've ever met. she wrapped the book in comic paper wrapping that she made herself. so freakin awesome. yeah. i just wanted to share for some reason. ok bye.
Thursday, April 13th, 2006
---
12:15 pm
- just
huerta sent me these in the mail.

this is what i say everytime i wake up: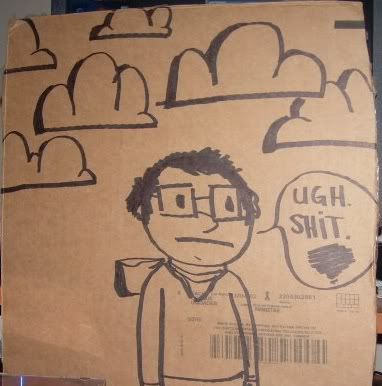 this is one of the most beautiful albums you've never heard, it's so amazing. download it, steal it, buy it, ask me to make you a copy, but fuckin listen to it.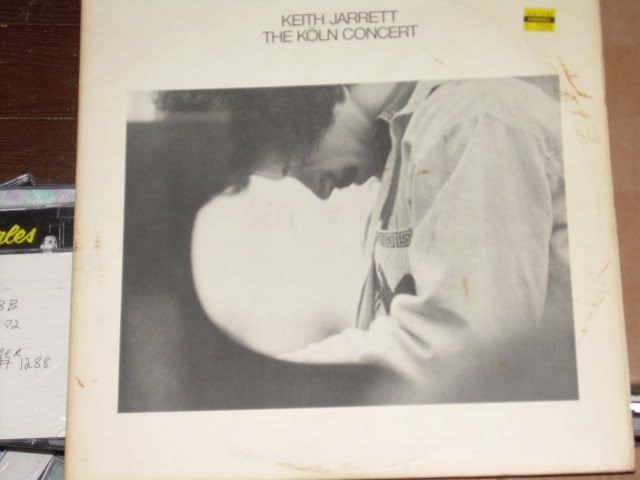 Tuesday, April 11th, 2006
---
10:00 pm
i got a traffic ticket so i can't buy a tascam us 428 off ebay like i wanted to. oh well. maybe next month. i'm starting to hate my job.which sucks cause i've gotten comfortable there, i like the people i work with, and all that other stuff, but i just hate it. i can't wait to start playing shows again, i need something to help balance me. nothing brings balance like music. when i'm in my car driving to work i feel fine listening to my cds but once i pull into a parking spot and i have to stop listening to whatever it is i'm listening to i feel an incredible sadness, cause it's all ending and i have to go in and do a job i hate. i shouldn't complain, i really shouldn't i should be greatful for all that i have. but you know how it is.

i'm getting this as a tattoo:



this is the tatto i have already, but in black:




everyone go to this!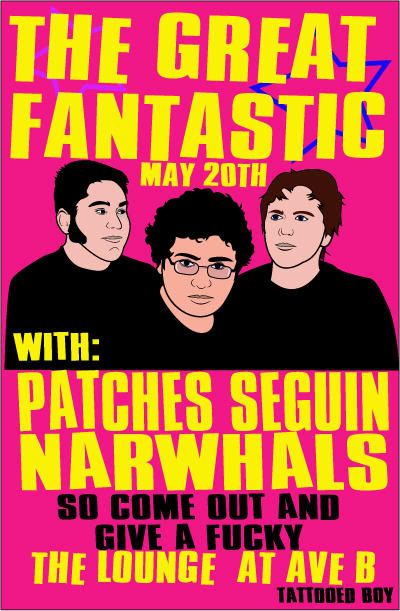 Sunday, April 9th, 2006
---
5:06 pm
- past couple of weeks.
shows on the weekend, sometimes during the week, like always.yesterday i hung out with graciano, arturo, and ricky during the day, i forgot my camera which sucks cause it was super boner good times. i also went to a comic "convention" if you wanna call it that. it was more of a collectors flea market. just a bunch of people selling really cool shit. if you're a geek. and i am. big time. i wish i had my camera for that too cause there was a storm trooper and a batman. so here some recaps of last weekend and this weekend.

(

with picturesCollapse

)
Thursday, March 30th, 2006
---
12:46 pm
- san francisco
so from 1/25/06 to around 1/31/06 , i don't remember exact dates, i went to san francisco and hung out with my great friend huerta, we danced, we saw lifetime, we went to alcatraz and bought some records. it was a lot of fun. i also got to see my friend april. but i don't have pictures of that reunion. only of the reunion of me and huerta. that was the meat of the trip anyway, man meat of the trip.

(

here's a ton of pictures of me with a beard. thank god it's gone.Collapse

)
Thursday, March 23rd, 2006
---
1:53 pm
- 3/17/06
Wednesday, March 1st, 2006
---
9:24 pm
- holy shit!
hahhahahahah, oh man, i'm crying i'm so excited! hahah! the comedians of comedy are performing march 14th at emo's, fuckin great, patton oswalt is doing a "guest set" in between bands at the emos day show on the 17th, and i'm already going to see lifetime that day, and he's also performing in the evening of the 17th and 18th in austin at the cap city comedy club, hahhaha, what the fuck!? i would normally say i don't deserve to see him that much or to even get the chance to, but lately i do deserve it, i fuckin deserve it hard, i love patton oswalt, he's my favorite. it's not in a scary way though so don't worry, i have a level head, even though it's a little bit broken.

PATTON OSWALT my hero.
Tuesday, February 28th, 2006
---
9:01 pm
- morrissey is an asshole
so frisco was nice, huerta, thanks for everything, thank you so much. i didn't want to come back, once i got home i was tired, sad, stressed and blah! i missed everyone but there was just something that made me sad when i got home, it was actually a nothing, nothing at all i just felt depressed. who knows why.

so many things have been ruined for me, i can't listen to morrissey anymore, and there's so many songs i can't listen to now, i can't watch eternal sunshine of the spotless mind(which reminds me i need to set up an appointment, get it i'm remembering to forget, there's a song or a joke there somewhere find it yourself) now i can't even masturbate. fart.

the plane ride was nice, i got to see the world through his eyes,even though i couldn't do anything about it. the evening plane ride was really nice and it made me feel romantic and sexy, but i had nobody to be romantic and sexy with, waaaaaahhhhh!!! always with the whining, enough already!

i had a post written before this one it was better but i forgot i wrote it and to update it and i turned off my computer and it's lost forever.

it felt like there was a lot of passion in that kiss, i'm not sure if there really was, but it felt passionate and right, but i couldn't return the passion, not because i didn't feel it, but because i forgot how, i hadn't felt anything like that in a long time so it was almost new to me. it don't matter.

ok, bye.
Monday, February 27th, 2006
---
8:54 pm
- dilaudid
the reception's gotten fuzzy.
the delicate balance has shifted.
put on your gloves and your black pumps.
let's pretend the fog has lifted.

now you see me.
now you don't.
now you say you love me.
pretty soon you won't.

if we get our full threescore and ten,
we won't pass this way again.
so kiss me with your mouth open.
turn the tires toward the street
and stay sweet.

all the chickens come on home to roost.
plump bodies blotting out the sky.
you know it breaks my heart in half, in half
when I see them trying to fly.

'cause you just can't do
things your body wasn't meant to.
hike up your fishnets.
I know you.

if we live to see the other side of this,
I will remember your kiss.
so do it with your mouth open.
and take your foot off of the brake
for christ's sake.